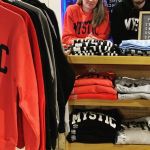 krystamurray@mysticchamber.org
Robert Nelson and Amanda Cummings
(Brother-Sister Duo)
Just Mystic
What do you do?
We design and distribute apparel to appeal to local and tourist affinities for Mystic, Connecticut and the surrounding local neighborhoods. Inspired by Mystic's local charm and global influence, we design iconic coastal apparel for that everyday seaside vibe while also being mindful of our global impact. We try to practice sustainability by using high-quality, durable materials that will last for years as well as upcycling our fabric for new apparel.
We will be opening a retail store in Mystic in the Spring of 2022. Until then, you can find our merchandise on our website Just Mystic or follow us on instagram @justmysticshop.
How did you get into this business?
We are a brother-sister duo with entrepreneurial hearts and love for Mystic, which is a place with some of our earliest memories, and one where we want to create new memories with the generations that follow. With this in mind, we've wanted to build a business together at a grass root level and to keep it local.
Amanda has the mind for marketing and Robert has the brain for business. After talking about our love for Mystic, we realized there was a market for Mystic apparel. Robert wanted an iconic, simple, clean look for our merchandise made with durable, yet comfortable, material. After talking to a number of manufacturing partners, we decided to work with a household name brand, Champion, because of it's high-quality, comfortable and simple style. It's the perfect brand and look for our vibe!
What does your slogan mean – Your Everyday Seaside Drip?
Drip is a slang term for fashion. It definitely grabs your attention… It's very current.
We're trying to have fun with this from picking out colors, making social posts, developing local relationships and more! Check out our Instagram to see all our fun videos we make to advertise our brand!
What do you love about Mystic?
There is something to do here in every season. Mystic summers are exciting, fun, and full of amazing activities. While the Mystic winters offer solace and that small-town feel with a humbling sense of community. Every season has stunning views of mystic and the seaside scape. The seaside really resonates with Robert as he was a docent at the Mystic Seaport Museum on the Sabino. There are lots of great memories for Robert here in his backyard.
What is something people don't know about your business?
One of our founding values is philanthropy. We have a couple of causes that are near and dear to us and our local community. We have the "COASTIE" collection which 5% of the proceeds goes towards–Blue Star Families. This is a program to support military spouses and Veteran families.
We are also part of the 1% for the Planet program in which our contributions are donated to GreenWave, a non-profit ocean farming initiative that fosters the development of new kelp farms both locally and globally.
We offer free local shipping within 15 miles of downtown Mystic, supporting local customers in Groton, Stonington, Ledyard, Westerly, and of course, Mystic. Geographically, we have delivered as far west as Seattle, Washington, Santa Fe, New Mexico and Bozeman, Montana!
What are your plans for Winter 2022?
Testing new products! We're expanding our product mix and look forward to offering greater diversity in our product selection. We also intend to formalize our Just Mystic Founding Member Program.
What is the Just Mystic Founding Member Program?
You are a Just Mystic Founding Member if you purchase something within the first six months of our launch, which will end in April. Members will receive benefits such as free lifetime shipping in the U.S., discounts, and early access to new products!
Click HERE to get your Just Mystic apparel now!
What is your favorite product?
Robert's favorite product is the Mystic Champion Reverse Weave hoodie. The Reverse Weave is part of Champion's premium line of heavyweight material. It's super comfortable and durable. It's weight is perfect for New England winters but also cool summer nights. We also have a limited edition version set to release in March!
Amanda loves the crewneck sweatshirts because they're lightweight and have the soft, cheerful Summer colors.
What Mystic businesses are your favorite?
This is such a foodie town so we would have to say that we enjoy all the restaurants.
We especially love Oyster Club, Daniel Packer Inne and Mystic Drawbridge Ice Cream.
Mystic also offers some great shops like The Nest, Manufaktura Company Store and Mystic Knotworks. They are all so fun and different - it's great to see what is always in the windows!
Where can people buy your product?
Contact Info:
Email: amanda@justmystic.com and robert@justmystic.com
Phone Number: (202) 360-5376
Social Media Handle: @justmysticshop