Success is at Your Fingertips
The Greater Mystic Chamber of Commerce Youth Workforce Development Committee, emerging from lockdown, reformed and developed a new leadership program, specifically focusing on students who have been affected academically and psychologically by COVID 19.  The committee spoke with school administration in Stonington and Groton and they focused on students identified as incoming sophomores having leadership potential.
The pilot program, named Success is at Your Fingertips, focuses on areas that contribute to a student's confidence and leadership skills. The four topics are: Work Ethic; Accountability; Tolerance and Opportunity. It was successfully piloted this past July at Fitch High School and Stonington High School during the summer school session and students did receive credit for completing the 4-day class.
The Greater Mystic Chamber of Commerce Youth Workforce Development Committee had been teaching a very successful soft skills program to high school students prior to the pandemic. Led by Moira Deasy, President of Train Worldwide, and with the help of community and business leaders, the program endured successfully for several years.
Earlier this spring, the Connecticut State Department of Education issued a survey to state education partners that revealed more than 90 percent of respondents agreed that educational funding should prioritize summer enrichment opportunities that will help students get caught up so that they can thrive in the 2021-22 school year.
Bruce Flax, Executive Director of the Greater Mystic Chamber and Committee member said "The Chamber has to maintain a commitment to the community and the direction the Youth Workforce Development Committee has chosen shows we can pivot and support where help is needed."  The committee has met to assess the summer pilot and adjust the teaching to a one day program. It will be introduced to a new group of incoming sophomores at the two high schools this fall.  The plan is to offer the program in the first quarter of 2022 to other area high schools.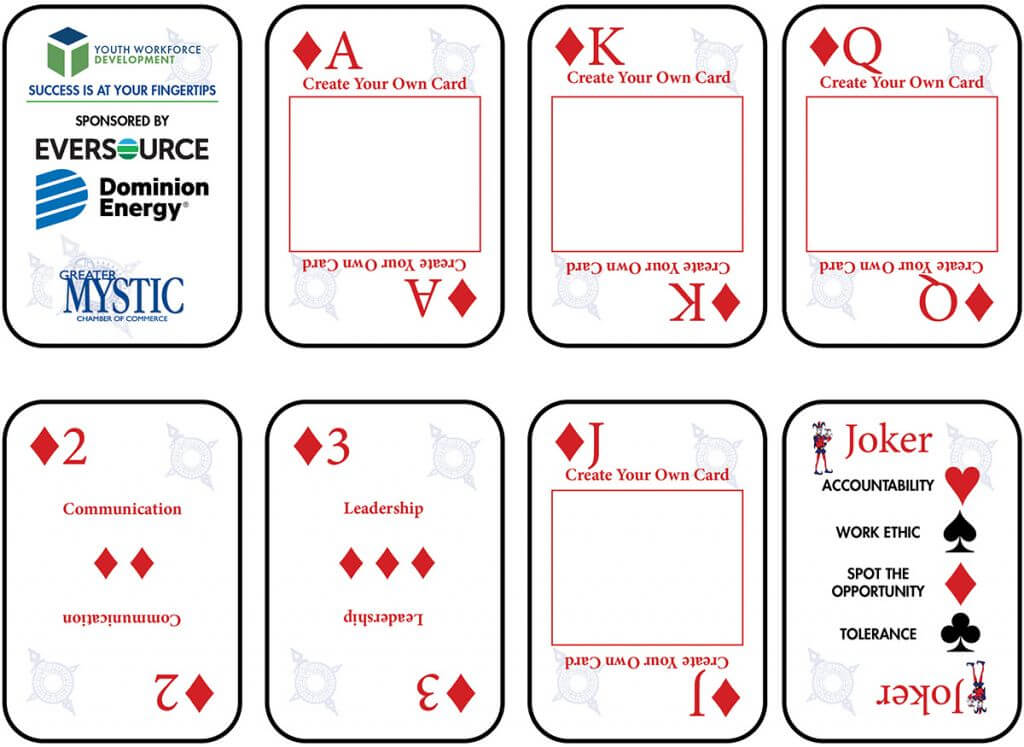 An education grant from Dominion Energy and Eversource gave the Chamber the resources to create this program this summer.  The committee developed a deck of cards to complement the curriculum.  Each of the card suits represents one of the four verticals (Work Ethic; Accountability; Tolerance and Opportunity)
Members of the Workforce Development Committee include Scott Post (Fitch HS Teacher), Amanda Ljubicic (Co-Owner of Ace Overhead Doors and former Director of Career Services at Mitchell College), Margot Crowley (Stonington HS Guidance), Ian Cooke (Planted), Stacey Noreika, Fitch HS - Special Education) and Bruce Flax (Greater Mystic Chamber).
Mary Anne Butler, Assistant Superintendent, Stonington Public Schools said "The district leadership is extremely supportive of this innovative and collaborative program in support of our incoming sophomores."  Adam Diskin, Dean of Students at Fitch High School added "We are extremely grateful for this leadership opportunity for our students and look to continue this partnership with our community."
"This program is a silver lining of the Covid crisis and shows how the Chamber can bring together business and educational leaders from multiple towns to emerge from virtual  to success  move students forward."
The program continues to be developed.  For more information or to get involved, please contact Bruce Flax at brucelfax@mysticchamber.org.