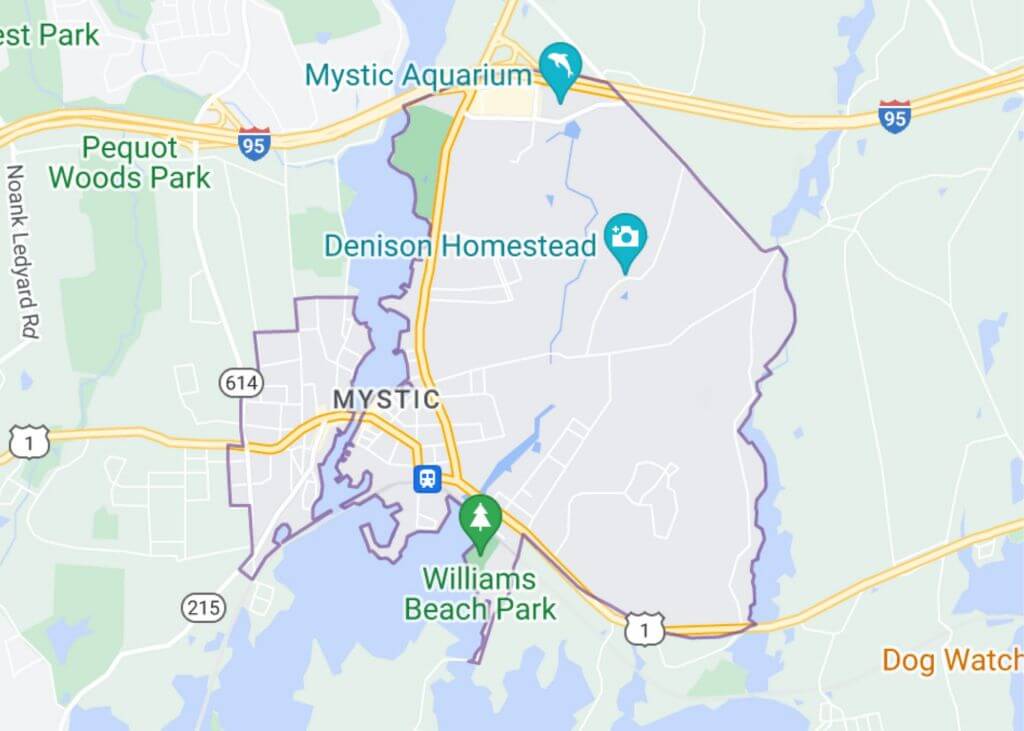 The Village of Mystic, CT  06355
Mystic is a village in Groton and Stonington, Connecticut. It is not a municipality, and therefore, has no independent government. Historically, Mystic was a significant Connecticut seaport with more than 600 ships built over 135 years, starting in 1784.
Mystic has preserved her rich history meticulously; boats sitting in calm, blue waters as they await the opening of the Mystic Bascule Bridge, tall ships tied to the wharf, the hustle and bustle of Downtown Mystic, the quaint village found at the Mystic Seaport, an underwater world at the Mystic Aquarium and the New England charm of Old Mystic Village, and downtown Mystic with its shops and foodie haven to making Mystic so special for visitors and residents alike.
History of Mystic, Connecticut & Mystic Seaport
Source: Wikipedia; https://en.wikipedia.org/wiki/Mystic, Connecticut (05.05.20; 14:00 EST)
Historically, Mystic was a significant Connecticut seaport with more than 600 ships built over 135 years starting in 1784. The story of Mystic's nautical connection is told at Mystic Seaport, among the nation's largest maritime museums which has preserved a number of sailing ships, most notably the whaling ship Charles W. Morgan. The village is located on the Mystic River, which flows into Fishers Island Sound and by extension Long Island Sound and the Atlantic Ocean. The Mystic River Bascule Bridge crosses the river in the center of the village. The name "Mystic" is derived from the Pequot term "missi-tuk" describing a large river whose waters are driven into waves by tides or wind, according to a history cited by The Mystic River Historical Society. The population was 4,205 at the 2010 census.
Mystic River (1879)
Before the 17th century, the Pequot people lived in this portion of southeastern Connecticut. They were in control of a considerable amount of territory, extending toward the Pawcatuck River to the east and the Connecticut River to the west.
To the northwest, the Five Nations of the Iroquois dominated the land linked by the Great Lakes and the Hudson River, allowing trading to occur between the Iroquois and the Dutch. The Pequots were settled just distant enough to be secure from any danger that the Iroquois posed. The Pequot War profoundly affected the Mystic area between 1636 and 1638. In May 1637, captains John Underhill and John Mason led a mission through Narragansett land, along with their allies the Narragansetts and Mohegans, and struck the Pequot Indian settlement in Mystic in the event which came to be known as the Mystic massacre. On September 21, 1638, the colonists signed the Treaty of Hartford, officially ending the Pequot War.
On July 19, 1922, the Mystic River Bridge spanning the Mystic River in Groton opened to the public. The bridge replaced the 1904 bridge and was fabricated by the American Bridge Company. It is a significant example of a Brown Balance Beam Bascule Bridge patented by former Otis Elevator Company Chief Engineer Thomas Ellis Brown of New York and was designed and built by the J. E. FitzGerald Construction Company of New London, Connecticut in 1920, according to its historical marker. Its movable span is 85 ft (26 m) wide, 218 ft (66 m) long, weighs 660 short tons (589 long tons; 599 t), and employs two 230 short tons (205 long tons; 209 t) concrete-filled counterweights. Until 1928, the bridge carried streetcars of the Groton and Stonington Street Railway.
The Brown bascule (or drawbridge) was an improved concept in movable bridge technology and replaced the swing bridge, providing for a single wide channel rather than two narrower channels with the ability to open the bridge only partially for smaller watercraft. The bascule bride is operated by the Connecticut Department of Transportation and opens for approximately five minutes around 2,200 times per year, carrying an average daily traffic of 11,800. It is driven by two 1,400 pounds (640 kg) 40 horsepower (30 kW) direct current motors, and its span is greased and inspected every 100 openings or two weeks during the winter. From May 1 to October 31, the bridge opens hourly during daylight at 40 minutes past the hour and on demand. It usually raises to let sailboats and yachts pass under.
Education in the Area
P.O. Box K 49, Groton, CT 06340
Phone: 1-860-572-2100
Fax: 1-860-572-2107
To register a new student you must bring:
Shot and medical records

Birth Certificate

All School Records

Physical (Will waive if you have a signed by a doctor within the past year.) You have 6 weeks to conduct the physical.
North Stonington Rd., P.O. Box 479, Old Mystic, CT 06372
Phone: 1-860-572-0506
Fax: -1-860-5721470
To register a new student you must bring:
Birth Certificate - for Kindergarten only

Physical and shot record

School records
* call the individual schools for further information
218 Dudley Street, Norwich, CT 06360
860-889-0340
89 Barnes Road, Stonington, CT 06378
860-535-0606
63 Liberty Street, Pawcatuck, CT 06379
Phone: 860.599.1084
182 Mohegan Ave., New London, CT 06320
860-443-5333
State Schools
Ella T. Grasso - Southeastern Technical High School
189 Fort Hill Rd., Groton, CT 06340
Phone: 860-448-0220
Email: grasso.southeastern@po.state.ct.us
Resources & GMCC Economic Partners
Town of Groton 860-446-5995 or visit www.groton-ct.gov to determine your location
City of Groton www.cityofgroton.com 860-446-4102
Town of Stonington www.stonington-ct.gov 860-535-5050
The Greater Mystic Chamber of Commerce is your first stop for referrals and information. Come see us for statistics and referrals. Meet with SCORE in our conference room.
seCTer ( Southeastern Connecticut Enterprise Region) is dedicated to strengthening our local economy and can help with marketing and business development.
CERC (Connecticut Economic Resource Center) has town based statistics and research services, marketing services, and economic development services. Click here for Town Profiles & Statistics