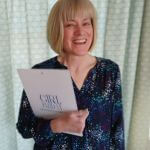 bruceflax@mysticchamber.org
Jean Lachance
What do you do?
Girl Friday for Shoreline Seniors, LLC is a non-medical senior concierge service, launched in mid-January 2022. I offer services to local senior citizens such as grocery shopping, menu planning and meal preparation, light housekeeping, transportation to appointments and errands, laundry and ironing, window washing, seasonal flowerbed plantings and cleanups, pet sitting and house sitting, and decluttering and organizing.
How did you get into this business?
The idea of helping seniors stay in their own homes safely and comfortably has been on my mind for the past couple years when I was Head of Circulation at East Lyme Public Library and running the Homebound Delivery Program. While working at the East Lyme Library for 27 years (17 years full-time and 10 years part-time), seniors were my favorite patrons and the relationships I built with them enriched my days. Creating and managing the library's Homebound Delivery Program cemented my love of seniors over the past 7 years and became the most fulfilling part of my job. That realization led me to take a leap of faith and make Girl Friday my next career. It has been the best decision in my life.
What is something people don't know about your business?
As a sole proprietor, I am the one and only service provider that my clients will see as compared to other senior home service agencies that send multiple employees to the same client. I offer a free initial hour meet and greet and new client discounts to help build a foundation of communication and establish a working relationship with my new clients. Having worked at the East Lyme Library for so many years, I have been very fortunate and thankful to have already established a solid base of clients in the East Lyme and Niantic area with seniors I have known for years now.
What do you love about Mystic?
I am a lifelong resident of Stonington so I have many happy memories of Mystic! I loved bike riding to The Emporium as a kid and buying penny candy in their basement or getting ice cream at Sea Swirl. My friends and I would hang out in Olde Mistick Village in the summer, pretending we were tourists and feeding the ducks. As an adult, I am grateful to live in such a beautiful area with a rich history. I love taking classes in hearth cooking and baking at the Mystic Seaport and love the book, Haunted Mystic! I am looking forward to taking some ghost tours of Mystic this year. The Village's Garlic Festival is my favorite event every year! There is always something new to discover locally!
What Mystic businesses are your favorite?
I love cooking but I also love to go out to eat at my favorite places like Margaritas in Factory Square. The spider cider margarita is the best! The Jealous Monk and Dogwatch Mystic are among my favorites. Peking Tokyo and Pink Basil are amazing for sushi and pad thai dishes! I love the cinema in the Village with those comfy heated seats.
What is something people don't know about you?
I have been a volunteer with Friends of Feral Felines, Inc. (FOFF) of East Lyme for over 25 years now. FOFF is a wonderful volunteer organization focusing on the trap-neuter-return (TNR) of feral and stray cats in New London County; TNR is the compassionate and humane method of stabilizing feral cat colonies. I have met so many terrific "cat people" over the years through FOFF and am thankful that Connecticut is proactive in helping feral cats. I have been known to rescue seagulls and just in the last year, an injured red-tailed hawk on I-95. Yes, I am one of those people that will stop and help a turtle across the road!
What are your plans for 2022?
I am currently finishing my CPR/First Aid certification and have enrolled in an online PCA (Personal Care Assistant) course to be able to provide an extra level of care for a longtime friend who just turned 98! Any educational opportunities that will help me better serve my senior clients will be on my agenda this year.
On a personal note, I look forward getting outside more and power walking and I cannot wait to start this year's vegetable gardening.
Contact Information:
860-879-4341
girlfridayctshoreline@gmail.com