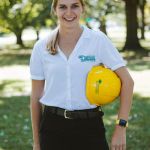 krystamurray@mysticchamber.org
What do you do?
As an Arborist Representative, I inspect, diagnose, and provide recommendations for residential and commercial properties on how to manage their landscape. I focus on plant health care, soil care, and the structural integrity of trees.
I manage properties from Lyme to Stonington, CT.
What does Bartlett do?
Bartlett is a scientific tree care company. We offer many services, but we specialize in pruning, managing insects and disease, soil care and fertilization, cabling/ bracing/ lightning protection, and pruning or removal of trees and shrubs. We are fully insured, TCIA accredited, and have a large staff of certified arborists.
How did you get into this business?
I have family in the industry that introduced me at a young age. As I learned more, I found a passion for it and attended UMASS for Resource Economics and Agriculture. After college, I moved to Philadelphia to work for Bartlett as a climber and plant health care specialist.
What are some of the larger jobs you have done?
I have worked on some large commercial campuses but the most significant tree I have cared for is the Survivor Tree for the 911 Memorial. I helped prune the tree in preparation for the memorial ceremonies in September. As a symbol of strength for our country, the tree has had a memorable impact on me.
How often are you in the Stonington-Mystic Area?
I am here all the time! Stonington- Mystic is one of my favorite places to work.
What do you love about Bartlett?
I enjoy practicing scientific tree care and helping to preserve our urban canopy. Bartlett has given me incredible opportunities and I get to learn something new each day about trees and the way we can live with them. Arboriculture is an inherently dangerous industry and Bartlett prioritizes safety at every level. It's motivating to work for a company that cares for their employees.
What do you love about Mystic?
I love Mystic Market and Sift –they are frequent stops for me. I like walking through the Pequot Nature Trail. After living in Philadelphia for 4 years, it's nice to be back on the water.
What is something people don't know about Bartlett?
It's in its 3rd generation of family ownership. The company was founded in 1907 by F.A. Bartlett. His son, R.A. Bartlett, established a research lab and arboretum in Charlotte, NC in 1965. It now holds the world's largest magnolia collection as well as notable conifer, holly, maple, elm, witch hazel, crabapple, and oak collections. R.A. Bartlett Jr. is the current CEO and has helped establish the company in new areas.
What are your goals for Summer 2022?
I am looking forward to helping my clients enjoy their properties this summer. I am also excited to spend time on my father's sailboat this year!
Contact Information:
860-572-6070
Instagram: @lifeatbartlett
Facebook: Facebook.com/essex